Out of the many choices that consumers have for countertop materials, quartz if a cost-effective one. But this is not the only reason why people choose quartz countertops for their kitchens. Made of 95% natural quartz granules and 5% of resins and other colorants, the material offers numerous benefits to the consumers, which will be discussed herein.
Harder and more scratch-resistant
A quartz countertop is stronger than granite ones in that it's non-porous, and less vulnerable to scratches, chipping, and cracking. The scratch-resistant property of quartz accounts for its high popularity, as it doesn't require much maintenance unlike granite, marble, or other substances. According to the experts, only three natural substances are harder than quartz namely, topaz, diamond, and sapphire.
Customization benefits
The color of quartz can be engineered with the help of pigmentation, thus increasing the customization options for the kitchen countertops. You can opt for any shade of quartz countertop and also include glass and natural stone into the quartz-resin mixture to achieve a preferred appearance.
Prevent scorch marks
Unlike plastic laminates and other solid surfaces, quartz doesn't allow scorching. It can resist heat to a good extent without damaging the surface. However, you should be careful about prolonged heat exposure, as it can cause the material to crack.
Non-porous nature
One of the most effective advantages of quartz over natural stones is its non-porous nature. It doesn't absorb fluids, which may damage the structure and doesn't require any protective seal to prevent such mishaps, thus reducing maintenance costs to a great extent.
Resistant to bacteria
NSF International has certified quartz as a safe surface for food preparation, as it doesn't allow food particles or liquid to penetrate the surface, thus increasing chances of bacterial growth.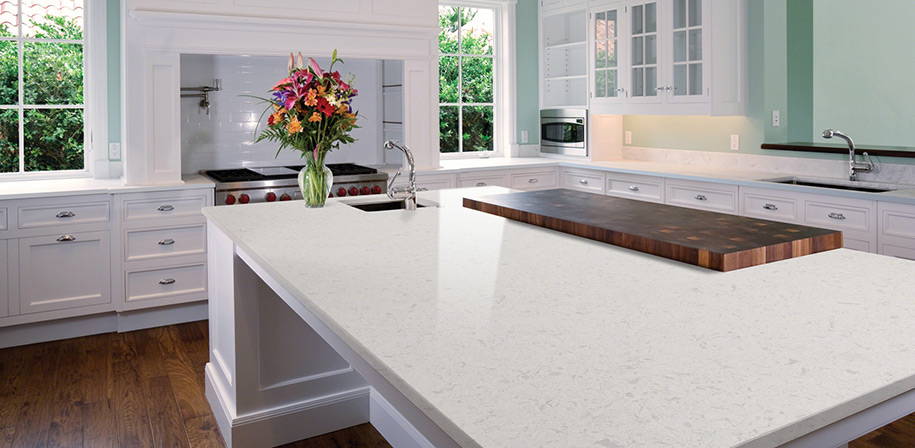 It doesn't stain
As compared to natural stone surfaces, quartz doesn't stain easily from accidental liquid spills. They don't require immediate and frequent cleaning, which is one of the many reasons for its popularity.
It looks stunning 
The appearance of a quartz surface is mainly dependent on the amount and type of granules used in the quartz-resin slurry. While finer granules will result in a more consistent appearance of the countertop, larger ones will create a speckled look, much its granite counterpart. While choosing the color of your quartz countertop, you are spoilt with options ranging from earth shades to bolder and brighter hues like blue, green, pink, orange, and red.
If you're planning to install a quartz stone surface for your kitchen countertop, get in touch with a reliable company that has years of experience in the field for the best quality materials. Let your kitchen define your taste in the best way possible!